Leeay Aikawa yoga, pranayama, meditation, nidra, tantra, mindfulness, oneness, innerbeing, being, realself, cosmic consciousness, consciousness

IAMD, OCAD University


A yogi and artist interested in Consciousness, Cosmic consciousness, Self, Inner being. Lately Interested in Tantra Yoga's basic principle: seeing the sacred in the mundane- to transcend the barriers between the holy and unholy as a means to reveal our Real Essence, the Self. A Tantric practitioner aims to see all aspects of the natural world as manifestations of the Divine Shakti.

Divine Puffer (2018- present)

I began consciously collecting inhalers in one place as a continuum of my partner's 'hoarding,' which developed from his attachment to already empty inhalers for 'just in case.' Though soon a sense of eventual function was generated; playfully imposing his clinging and contradictory habitual patterns on him who starts and ends his day by smoking cigarettes, despite his asthma.

He, who is otherwise very calm, grounded, and present, is not quite here, when he is dependent on an inhaler. Incapable to breathe, however, his desire to fix and breathe, is a direct embodiment of the innate characteristic of his very existence and temporarily magnifies the presence of an inhaler.
Yet, this presence is only one mechanistic push away from its absence, as soon as his breathing condition is fixed. It is in this onto-phenomenological paradox, I witness my own increased awareness.
Simply blue, synthetic, and 'L' shaped, nowhere near striking – this external aesthetic condition of an inhaler – presupposes my purely subjective preference for forms that emerged from mundane and intimately ties to what is of central importance in my life – humour.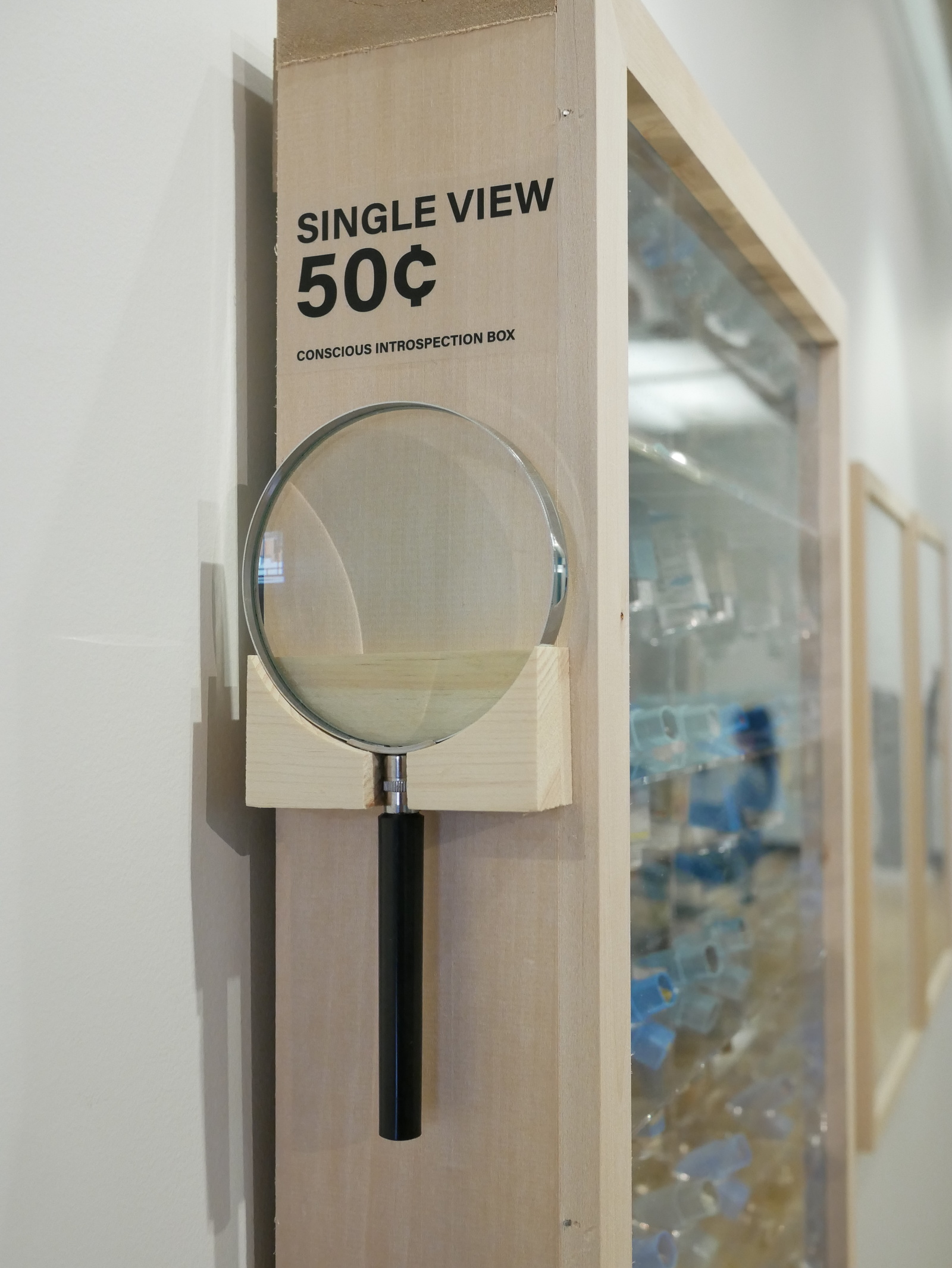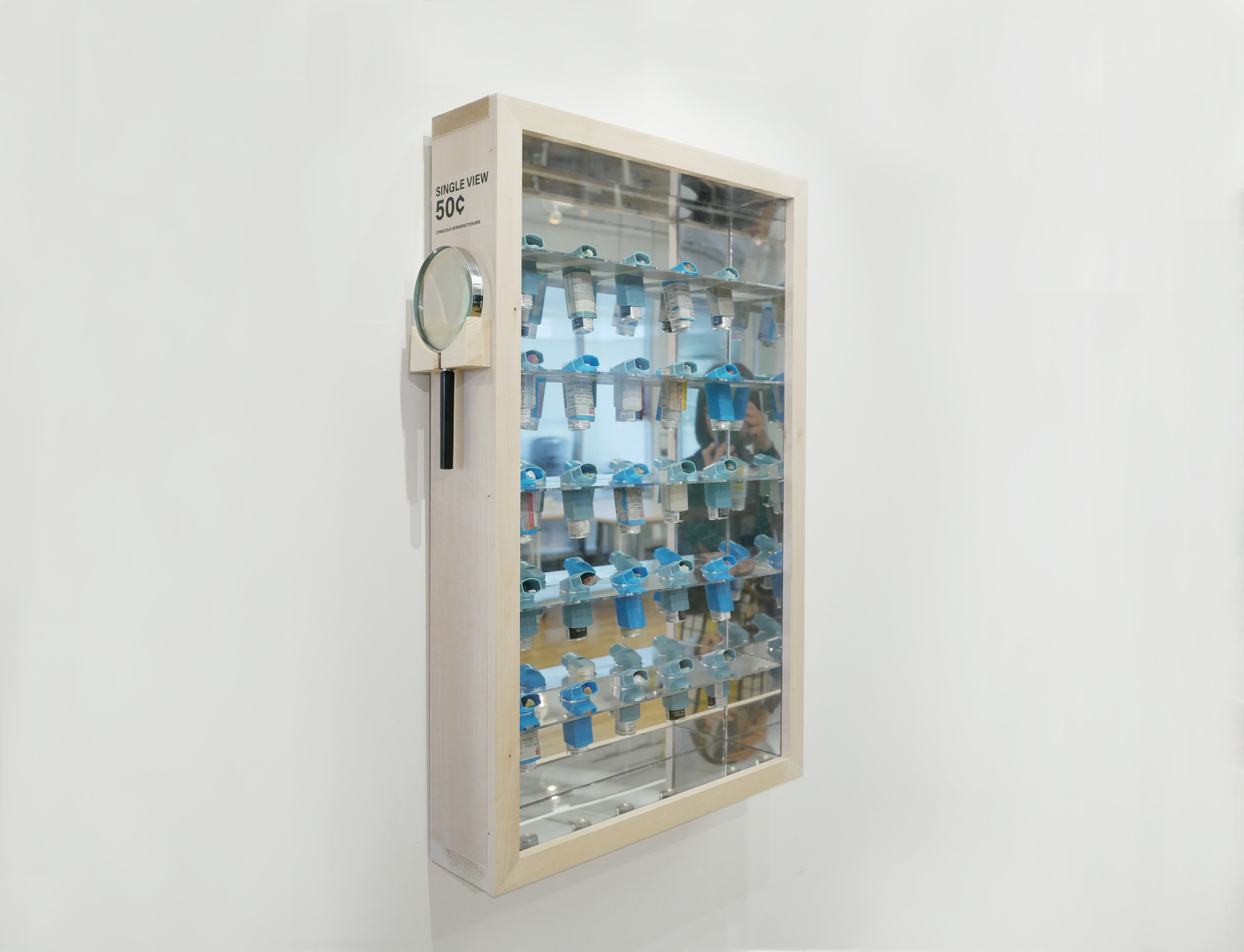 Inhaler and Inhaled (2020)

This human-size wearable inhaler departed as my attempt to experience an inhaler from inside rather than outside. I blur the distinction of object/subject divide by exploring the point between the inhaler and the inhaled, with an ontological question "Am I the one who is inhaling the inhaler or is it the inhaler who is inhaling me, who is inside the inhaler?"
Conscious Introspection Box (2019)

Inhalers, crystal healing rocks, magnifying glass,
reflective acrylic sheet and plywood

17 x 28 x 3.5" (43.18 x 71.12 x 9 cm)

25 used inhalers associated with western medical devices of the modern era, are placed upside-down as opposed to how they are held to use by a patient when they are in service to instantly fix their breathing condition.
Multiplied and contained in the box, making it unreachable by the viewers, healing rocks, applied for thousands and thousands of years to heal metaphysical problems, mental, physical, and spiritual blockages are placed inside the opening of the inhalers to represent an absence of drug suspension in the inhalers.
Juxtaposing these man-made objects of the west and holistic objects of ancient culture, the whole box becomes an uncanny tool to raise awareness of the paradox of human activities and our culture, where spirituality is now a commodity.